Ravenswood Dining & Attractions
In 2018, Design Engine made the Ravenswood neighborhood its new home after spending 20 years in the West Loop of Chicago. Below you will find a list of Ravenswood Corridor's Dining & Attractions and surrounding areas with a bevy of breweries along Malt Row that will satisfy any craving. And if you make your way to our old stomping grounds, you can pick from our list at the bottom of the page Enjoy!
Band of Bohemia The First Michelin Starred Brewpub. Rooted in the namesake bohemian spirit of collective ingenuity and dedicated to providing an elevated level of cuisine, libations and service. 4710 N Ravenswood Ave https://www.bandofbohemia.com/
Begyle Brewery Straightforward microbrewery & retailer teaming its craft beers with tours & more. This brewery is more a warehouse than watering hole. If you hungry have your food delivered. 1800 W. Cuyler
http://www.begylebrewing.com/

BienMeSabe Venezuelan Cafe & Restaurant "We have interpreted the taste of Venezuelan homemade food, offering local dishes from our country and fused them with a modern touch for our customers." 1637 W Montrose Ave https://bienmesabechicago.com/
Brownstone Tavern Great food, outdoor seating + they deliver. 3937 N Lincoln Ave http://www.brownstonetavern.com/
Dovetail Brewery The dovetail joint is the classic symbol of quality and craftsmanship that we strive to bring to our beer. "As two brewers (Hagen & Bill) joining together to make a stronger form, we are open-hearted alchemists who savor life through a passion for brewing." Tours available. Dog-friendly, BWOF(ood) or order in. 1800 West Belle Plaine http://dovetailbrewery.com/
Glenn's Diner Created to re-invent the "diner". Normally we would not include a restaurant w/ the word diner on our list here but this place is cool. Are you in the mood for seafood, omelette, steak sandwich or cereal? They have it all! 1820 W Montrose Ave http://glennsdiner.com/
The Globe Pub Neighborhood pub & sports bar with European soccer on TV, a jumbo beer list & British fare. They offer a wide variety of dishes including traditional American bar food, British and Irish dishes (such as curry), a selection of seafood and over 400 beers of all styles from around the world. 1934 W Irving Park Road http://www.theglobepub.com
Half Acre Beer Co Creative burritos & other global fare offered alongside house beer in rustic-chic digs at a brewery. 4257 N. Lincoln Avenue http://www.halfacrebeer.com/
El Llanno Chicago Great Colombian Food. "We only cook with the best quality steaks. We prepare our Angus Choice Quality steaks with a combination of hand selected herbs and spices that have been used in our Colombian family, for more than three generations." 3941 N. Lincoln Ave http://www.llanochicago.com/
M & G Char Grill Breakfast to dinner American & Mexican classics, such as omelets, burgers & tacos, in a nook eatery. 1821 W Irving Park Rd https://www.mgchargrill.com/
The Piggery Home of Chicago's Best Cuban sandwich and the Sty Deck rooftop bar. They emphasize pork as well as other home cooked entrees, burgers and tacos with everything being made in house from scratch. 1625 W Irving Park Rd http://www.thepiggerychicago.com
Spacca Napoli Casual spot with Neapolitan-style thin-crust pizzas served in a rustic space with patio seating. 1769 W. Sunnyside Ave http://www.spaccanapolipizzeria.com/
Stengolds Delicatessen & Cafe Wonderful fresh soups & sandwiches 1840 W. Irving Park Rd http://www.steingoldsdeli.com/
Rojo Gusano Creative tacos & other modern Mexican eats pair with tequila & bourbon in beach-inspired digs. https://rojogusano.com/ravenswood/
Wasabi Cafe for sushi Fridays we go here. 3908 N Lincoln Ave http://www.wasabicaferestaurant.com
Attractions near Ravenswood:
Wrigley Field – 1.2 mile walk. Wrigleyville, Lakeview area @ 1060 W Addison St Chicago, IL 60613 Phone number (773) 404-2827
Welles Park – Ravenswood, Lincoln Square area @ 2333 W Sunnyside Ave Chicago, IL 60625 Phone number(312) 742-7511
Old Town Aquarium – Old Town @ 1538 N Wells St Chicago, IL 60610 b/t Burton Pl & North Ave Old Town, Near North Side Phone number(312) 642-8763
Steppenwolf Theater – Lincoln Park, DePaul area @ 1650 N Halsted St Chicago, IL 60614 Phone number(312) 335-1650
City Segway Tours – South Loop @ 910 S Michigan Ave Ste 130 Chicago, IL 60605 b/t 11th St & 9th St South Loop Phone number (312) 819-0186
Chicago River Canoe & Kayak – 3400 N Rockwell St Chicago, IL 60618 at Melrose Avondale (773) 704-2663
West Loop Dining & Attractions
Chicago's West Loop neighborhood is arguably the hottest neighborhood in the United States with hundreds of restaurants all with 4 block walk of the training studio. We hear it called Restaurant row.
Au Cheval http://auchevalchicago.com/ French meets Chicago west loop with a great beer selection. Fried bologna sandwich, or a pork porterhouse. Bart's favorite is the side of bacon & beer. They don't take reservations so we suggest you walk over at 5 and make put in your name and go back to Design-engine and practice your class then go for dinner in 2 hrs. There is always a 2 hour wait. 800 W. Randolph 312.929.4580
Cemitas Puebla Mexican restaurant specializing in traditional Poblano foods, the distinctive sesame covered rolls are baked on site each day, using a recipe that can be traced back to Puebla, Mexico http://www.cemitaspuebla.com 817 W Fulton Market 312.455.9200
City Winery http://www.citywinery.com/chicago/ 1200 W Randolph 312.733.WINE
Duck Duck Goat The website states "reasonably authentic Chinese food. We realize however that anything Stephanie Izard's puts together is probably one of the coolest places to eat in Chicago http://duckduckgoatchicago.com/ 857 W Fulton Market
Eataly https://www.eataly.com Eataly borrowed from Italy is probably the coolest mall like restaurant where downstairs is shopping for cooking supplies for mom and upstairs a group of various small restaurant
Food Trucks Recently Chicago City government made food trucks legal. In the past food trucks were not allowed in Chicago because of fear of improper handing of food and possible contamination. All food trucks must prepare food in a restaurant environment and pass stringent tests. It's one of the coolest parts of Chicago!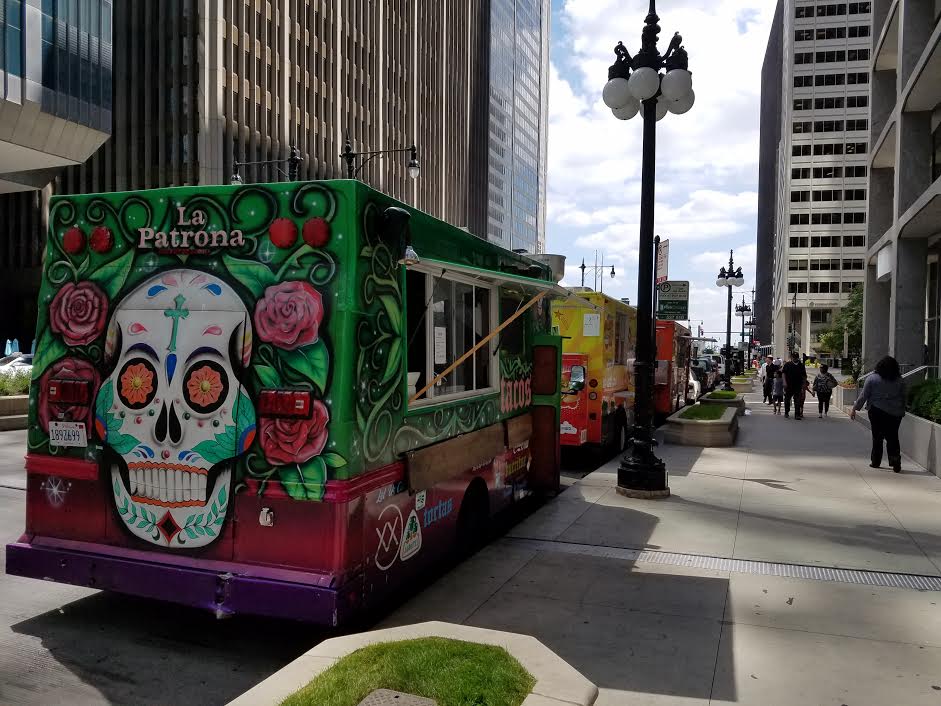 French Market http://www.frenchmarketchicago.com Off Clinton this french mall for lack of a better word.
Girl and The Goat http://www.girlandthegoat.com/ One of the hottest spots in Chicago to dine. Belly up at the bar because of the three month wait for a reservation but here is the phone number anyway. 809 W Randolph 312.492.6262
Grange Hall Burger Bar http://www.grangehallburgerbar.com Great Burgers 844 W. Randolph 312.491.0844
Green Street Meats http://greenstreetmeats.com/ Next Door to Design Engine offices this Texas style BBQ house does it better as good or better than the best Houston, Dallas or Austin BBQ restaurants. Great selection of Beer to wash it all down. Hope designers and engineers down south at Dell Austin TX is not reading this. They might get upset that Chicago competes with Austin TX on BBQ.
Hay Market http://www.haymarketbrewing.com Awesome brewery, known for their sausage salads.
Jaipur http://www.jaipurchicago.com Authentic Indian Cuisine.
J.P. Graziano Grocery Co. http://www.jpgraziano.com Great Place for Sandwiches and a Design engine's Matt's favorite.
Little Goat Diner http://www.littlegoatchicago.com/ Great place to grab a Coffee before class starts. There is a bakery and bar next door too for after class drinks. 820 W. Randolph 312.888.3455
Nellcôte http://www.nellcoterestaurant.com The latest addition to the Randolph strip and just below Design Engine. A Rolling Stones theme with great food and interesting beers. 833 W Randolph 312.432.0500
Nia Restaurant http://www.niarestaurant.com Mediterranean Tapas. Seasonal Large & Fat Rabbits from Wisconsin on the menu is Bart's favorite. Design-engine and group have been friends with Nia for 20 years and love her restaurant! 803 W. Randolph 312.226.3110
Parlor Pizza Bar http://www.parlorchicago.com/ This is the newest addition to our fabulous neighborhood and part of the problem why no one can't get a parking spot in the West Loop.
Publican http://thepublicanrestaurant.com/ The finest contemporary American Meets served up with the best service in Chicago. 837 W Fulton Market 312.733.9555
Publican Quality Meats http://publicanqualitymeats.com/ Contemporary American lunch place across the street from Publican. The salads are super delicious. 825 W. Fulton Market Street 312.445.8977
Porkchop http://porkchopchicago.net/ Mighty saws from the 1800's that were used to cut beef are all on display at this Chicago Westloop restaurant & they have a food truck too! 941 W Randolph Chicago, IL 312.733.9333
Maudes Liquor Bar http://www.maudesliquorbar.com Great spot for drinks and french Bistro style cuisine on Randolph 840 W. Randolph 312.243.9712
Soho Restaurant http://www.sohohousechicago.com/ A new hot spot for Chicago and right across the street from Design Engine's offices this hotel is the happening spot with 3 bars 2 restaurants.
Sushi Dokku http://sushidokku.com/ Authentic sushi, sashimi & Japanese small plates plus sake & cocktails in a chic, minimalist setting. Steve (a design engine account manger) is a regular for lunch each week, and everyone is invited to join. Happy Sushi Friday! 823 W. Randolph 312.455.8238
TÊTE Charcuterie http://www.tetechicago.com French Chicago Style 1114 W. Randolph 312.600.9391
Trattoria Isabella http://www.trattoriaisabellachicago.com Excellent Italian Food and Bar. 217 N Jefferson Street 312.207.1900
Vivo Restaurant http://www.vivo-chicago.com Italian Cuisine 838 W. Randolph 312.733.3379
Wishbone Restaurant http://www.wishbonechicago.com Look for Louisiana cuisine complete with blackened catfish, cornbread, Black-eyed peas and spinach. Inexpensive alternative to all the upscale spots, casual atmosphere. 1001 W Washington Blvd 312.850.2663
Frontier, The http://thefrontierchicago.com/ An excellent craft beer and wine selection coupled with delicious finger foods and exotic meats. Menu options include wild boar, alpaca, and venison sausages and alligator scallopini.
Gilt Bar http://www.giltbarchicago.com
Same area as Hubbard Inn, tasty food and drinks. Same owner as Green Street Meats so you know it's special 230 W Kinzie St 312.464.9544
Restaurants We suggest in Chicago
Karryn Raw http://www.karynraw.com Vegetarian Cuisine on Halsted
Flo Chicago http://www.folklorechicago.com Greet sit down mexican. For breakfast try the Bacon-Chocolate Pancakes. Also for dinner you will ask for Bacon glazed Bourbon. We suggest the Red Chilaquiles for dinner & Breakfast 1434 W. Chicago Ave 60642 312.243.0477
Feast http://www.feastrestaurant.com Upscale dining in a casual atmosphere with 2 locations. Great for dinner or brunch.
Folklore http://www.folklorechicago.com Argentine steak house in Wicker Park
Handle Bar http://handlebarchicago.com/ North Avenue in Wicker Park. Known as a Vegetarian restaurant however they have Grilled Chicken on the menu. One of Bart's favorites because of the fried pies and he barely eats fried foods.
Jerk Grill http://www.jerkgrill.com/ Modern Jamaican Grill. Near Bart's house and one of his favorites. 811 W Chicago Ave & They Deliver too 312.763.2870
Hampton Social http://thehamptonsocial.com/ Well named w/ the beach like atmosphere with coastal-inspired cuisine.
The Bedford http://www.bedfordchicago.com
Good place for drinks, built in an old bank vault (Division/Ashland)
Rustic House http://www.rustichousechicago.com
In Lincoln Park 1900 N. Halsted
Boka http://www.bokachicago.com
in Lincoln Park about 1650 N. Halsted
Hubbard Inn http://www.hubbardinn.com
Another good spot in River North closer to your hotel. Good food and drinks with a nice, unique atmosphere. American fare
Purple Pig http://www.thepurplepigchicago.com
Small plate style, great food if you like pig/pork among other things, located on the Magnificent Mile. 312.464.1744
Gibson's http://www.gibsonssteakhouse.com Friday or Sat night, great steaks!
Manny's http://www.mannysdeli.com Best Jewish Food in Chicago!!! In the South Loop. Since 1945. A Chicago legend!!
Nuevo Leon http://www.nuevoleonrestaurant26.com/ Delicious authentic Mexican cuisine in the heart of Pilsen. Careful: the carrots on the table are hot! BYOB so bring some Modelos put out the fire!
Sushi X http://rollingatsushix.com/ at the intersection of Milwaukee & Chicago this Sushi restaurant does not serve alcohol and packs a powerful flavor set of Sushi. Stop at the CVS across the street for you favorite beer or wine and consider brown bagging it. BYOB is Legal in Chicago Sushi X also delivers Bart's favorite 312.491.9232
Italian Village http://www.italianvillage-chicago.com
71 W. Monroe, Chicago, IL 60603-4910 ● Phone 312.332.7005
The Opera Singers eat here. So you know they have the best Italian Food in Chicago.
Places of Interest alternate to Chicago West Loop Dining & Attractions:
Blue Chicago – 736 North Clark Street, Chicago, IL 60610
Kingston Mines – Across the street from Blue Chicago in Lincoln Park, another interesting blues bar
Museum of Contemporary Art free Fridays
Art Institute free Tuesdays
Adler Planetarium – catch "Adler After Dark" if you can
Shedd Aquarium – catch "Jazzin' at the Shedd" if you can
Field Museum
The Museum of Science & Industry
The Museum of Contrariety Art
Northerly Island
Top of the Willis/Sears tower
Signature Room at the top of the Hancock
Architectural Boat Tour, access this on Michigan Ave/Wacker near the river
Millennium Park/Ice Skating
Wicker Park
North Avenue Beach
Mag Mile
The 16th in Trump Tower, cool view, very expensive, so maybe a drink
http://en.wikipedia.org/wiki/Near_West_Side,_Chicago
http://explorechicago.org/city/en/neighborhoods/west_loop.html
Other notes about Chicago
Any restaurant in Chicago that does not maintain a beer or liquor licence it is legal for patrons to bring a bottle of wine or beer. Chicago calls that 'brown bagging it" It is illegal for those bars to charge a corking fee if that establishment does not have a beer or liquor licence.