Die Cast Part Design
Course Duration: 16 hour
[accordion autoclose=false openfirst=true clicktoclose=true]
[accordion-item title="Overview +" state=open]This course and related material will bring confidence and a working understanding of the die cast process. The bulk of the time in this workshop will be spent on the part design requirements imposed on the designer by the die casting process and the CAD design tool of choice. This class is for those engineers or industrial designers looking to further their manufacturing processes experience and understanding of die casting with respect to Creo or SolidWorks.
Note: Mention to your Design-Engine account manager that you have in house Buyers interested in this course so the CAD tool can be administered on the second day excluding Buyers and other non CAD individuals on the second day.
[/accordion-item]
[accordion-item title="Similar Courses +" state=closed]Manufacturing Week long Intensive, Plastics Part Design, Forging Part Design, Mold Design class, Learn Creo Sheet Metal Training.
Compare metal injection molding to powder injection molding to PIM to die casting.
Die casting vs plastic design & molding.
Die casting vs permanent mold.
Die casting vs forging process with respect to cost and quantity.
[/accordion-item]
[accordion-item title="Prerequisite +" state=closed]General knowledge of Creo or another parametric 3-dimensional CAD modeler helpful but not necessary.
[/accordion-item]
[accordion-item title="Topics +" state=closed]
The process, die cast molds, tooling, processing factors, nominal walls, radii & draft angles, ribs, weld lines, stress, cooling metals, bosses, undercuts.
Also Snap Fit, FEA, design recommendations, overview of flow mold analysis software.
Learn to design molded undercuts and sliders.
Learn about various die cast materials and alloys and discuss material properties such as adding zinc and copper for more malleable alloys i.e. Kohler faucets.
Engineers or designers will learn to utilize tooling an

Die cast aluminum parts come together in this Penske Rear shock for a sport bike

d die cast molders as a resource to design better piece parts.

Learn about the metal mold itself and many of its intricacies such as sleeve ejection, how it is cooled, sprue and runner, ejector bars, ejector plates, and ejector pins.
Discuss the steps for die the casting process.
Learn about the pore-free casting process for eliminating gas porosity.
Learn about heated-manifold direct-injection die casting.
[/accordion-item]
[accordion-item title="Discussions +" state=closed]
History of forming metals.
Die casting as a process and its specific history.
Discuss how a die cast mold process works in detail hot chamber vs cold chamber.
Learn about Alloys with respect to die casting… zinc, aluminum, magnesium, copper, lead, and tin. Also factors in choosing the proper alloy.
Discuss how China plays a major role in die cast tooling and the casting process.
Discuss the quotation process for tooling and discuss partnering with local die casters molders vs outsourcing. Strengths and weakness of outsourcing.
Discuss basic design elements in die cast part design. Holes, ribs, thin wall features, bosses, nominal walls, and fill.
General rules for hollow boss design and discuss best practices. Learn about thin blade situations and discuss ways to avoid.
Advantages and disadvantages of die casting.
Discuss gating and discuss problems such as fill vent and eject issues as related to die casting. Also discuss how to design in solutions to would be cosmetic problems.
Discuss cooling time as related to thick sections of aluminum. Discuss internal voids and fundamentals of other problems that occur from improper piece part design.
Discuss using parametric modelers in general and discuss examples where using variables with a parametric modeler can save problems in the future complete with in class examples.
FEA and stress associated with die cast design with respect to FEA. Keeping in mind the deliverable for FEA is simply to make design recommendations discuss the possible solutions to many of the common molding problems. Keep in mind shrink, stress from sharp corners as related to cavity filling.

Aluminum die cast part with a fan gate

List die cast vendors and discuss their role and how designers can leverage their experience.
Learn about tooling and different materials for mold design. Discuss from a machining point of view and compare to cutting graphite for electrode burning of steel.
Discuss how to improve flow of the melt through the mold and learn about Flow Molding analysis software.
Discuss designing undercuts and discuss advantages and disadvantages as relative to costs.
Discuss general disclaimers on drawings such as "brake all sharp corners" and other associated notes that engineers might find on detail drawings.
Discuss different types of undercuts and side pull options.
Discuss what challenges a mold designer faces when designing a mold with respect to cooling.
Draft as related to texture kits. Discuss how to call out textures in drawing programs with examples. Learn about the texture application process and why die cast parts often recess the texture.
Learn about heat treatment and anodizing processes.
Discuss chrome applications and other plating, painting, or powder coating processes.
Learn of benefits of joining the North American Die Casting Association.
[/accordion-item]
[accordion-item title="Creo or SolidWorks Specific +" state=closed]
Discuss Draft in its many forms complete with examples of split Draft etc.
Learn to use surfacing and discuss its usefulness with die cast part design.
Learn to use top down design with examples in Creo or Solidworks.
Add Draft to parts that currently have no Draft.
On at least one example, use Pro/Engineer to modify parts that others modeled so that those parts are moldable.
Discuss tips tricks and techniques for starting and completing die cast parts using Pro/Engineer.
Learn to use parameters to drive geometry relative to nominal wall thickness.
Discuss B-Side geometry creation techniques including secondary operations.
Discuss bosses and ribs.
Learn to use Utilize Draft check correctly.
Techniques for managing the Creo or Solidworks machining operations.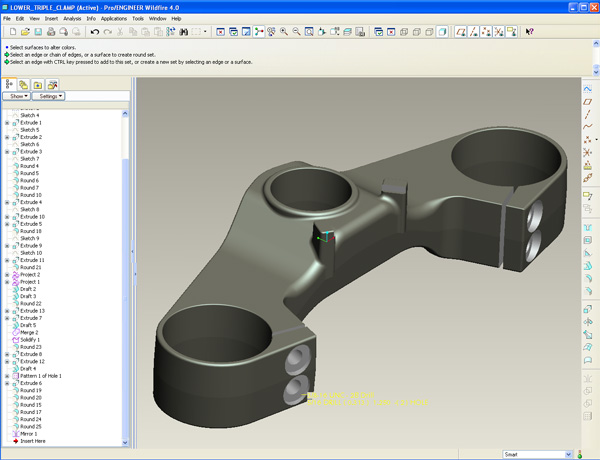 [/accordion-item]
[accordion-item title="Brief +" state=closed]
Introduction to die cast Part Design using a constraint based modeling utility such as SolidWorks or Creo. This course also covers tips and tricks for making changes easily. This training course is developed for new and seasons users who want to become experts in die cast part design in just two days. We help you learn not read to you from an exercise or a book. In this course we help design engineers learn how to make changes quickly to set them up for becoming expert faster. As with all Design-Engine classes, participants keep the training material login and password for life.
There is a great deal of HTML course material students take back with them from this workshop.
[/accordion-item]
[/accordion]
Click To View Images:
Video Training Delivery System:
Ask your Design Engine account manager about the Design-Engine Video Training Delivery System or TDS for short. We have prepared this entire class in an easy to follow guide for designers and engineers who may want this TDS as a supplement to this course. Call today to speak to an account manager about the details at 312.226.8339
*Please note that prices listed on this page are based upon pre-payment prior to the start of the class and does not include the Design-engine Video training Delivery System. The TDS is available as an additional cost to this course. Call for details 312.226.8339