Creo Weld: Top-Down Design & Detailed Drawings
Course Duration: 16/32/40 Hours
[accordion autoclose=false openfirst=true clicktoclose=true]
[accordion-item title="Overview +" state=open] Participants in this Creo Weld classes will learn the weld utility and generate respective detail drawings with modern drawing standards. Participants have the option to customize this course to fit their unique job requirements. We offer 16, 32 or 40-hour classes for your specific needs. For example, to be most efficient creating effective weldments, participants need to be experts at Top-Down design. We added the basics of Top-Down design to the 16-hour course. The 32-hour course covers a full spectrum of using Top-Down design, while the 40-hour course is reserved for a customized AAX week or for adding a Creo Framework module to the course. Call today and ask us how this and other classes can be administered on weekends for more than two students.[/accordion-item]
[accordion-item title="Onsite Training +" state=closed] This and all Design-Engine courses are offered onsite at your facility or at Design-Engine West Loop Chicago location. Call 312.226.8339 to speak to an account manager and arrange a class today.[/accordion-item]
[accordion-item title="Projects +" state=closed]The instructor has a multitude of parts and assemblies for classroom participation including bicycle frames, motorcycle swingarm, expansion chamber & other exhaust pipes, kickstand to weight lifting equipment that uses standard tubing to steel plates welded together into various positions. You may request a conference call before class to help prepare the instructor for your specific industry needs. [/accordion-item]
[accordion-item title="Next Class +" state=closed] Learning Creo Surfacing WEEK long or Creo Top Down Design Training or Advanced Assembly week long intensive or Creo Simulate is recommended as the next class.[/accordion-item]
[accordion-item title="Prerequisite +" state=closed] A healthy knowlege of Creo is recommended but there is no real prerequisite for this class. Creo Training Level 1 & Creo Top Down Design Training are recommended but not necessary as we will cover specific basics of top down modeling techniques for effective management to design weldments. [/accordion-item]
[accordion-item title="Assumptions:" state=closed] That participants have either a degree in engineering or have significant manufacturing experience. Actual welding experience is not necessary, but helpful.[/accordion-item]
[accordion-item title="Topics +" state=closed]
Customize environment for welded assemblies.
Manage settings and preferences for Creo Weld utility.
History of welding through robotic welding and programming.
Discuss Stick or ARC welding with various types of gas.
Discuss flame cutting with Oxygen & Acetylene.
Weld symbols in general then compare to weld specific annotations.
Common Weld principals & practices.
Weld preparations to parts.
Welding Stainless Steel and Aluminum – Finishing.
Brazing casts metals.
Ultrasonic welding of plastics.
Learn to manage intermittent fillet welds.
Combine similar weld symbols.
Compare Creo Weld Module to Solidworks & Catia utilities.
Creo Framework intensive (40-hour course only).
Build with Creo example Fillet Weld, Square Butt, Single V Butt, Double V Butt, Single U, Single V, Single Bevel Butt.
Flush, Flat Contour, Convex Contour, Concave Contour added to weld symbols.
Grinding, Machining, Chipping Finish added to weld symbols.
[/accordion-item]
[accordion-item title="Discussion +" state=closed]
Discuss the use of weld symbols and standardization among various companies using Creo.
Discuss history of welding thru modern robotic welding as related to PTC Creo.
Discuss various inert Gas choices for various welding processes and why.
Look at various weld joints and try each with examples in Creo.
Discuss adding and modifying Creo detail notes and related workflow issues related to standard and custom weld notes on drawings.
Discuss standard drafting principals and relate those to Creo Drawing Mode with respect to welded assemblies.
Discuss through examples the use of Top-Down design for managing the development of weldments .
Discuss sheet metal weldments (the instructor will conduct a 20 min demonstration of creating Sheetmetal parts understanding that the participants may already know Sheetmetal .
Discuss how administrators set up Creo drawing formats for the automatically populating data on company standard.
Discuss weld symbols in Creo and their use with respect to creating welding drawings
Discuss Ordinate Dimensions with respect to weldments.
Discuss setup files (.dtl files) with respect to workflow by switching between multiple .dtl files.
Discuss the difference between fully dimensioned detail drawing from minimal control drawings.
Discuss the new Creo weld utility for solid weld and compare to surface and lite weld geometry.
How Creo weld transfers into Creo Simulate for analyzing the welded assembly for strength with respect to FEA or Creo Simulate specifically.
Discuss how Creo Framework utility can speed up the welded assembly development process from a non-sales perspective.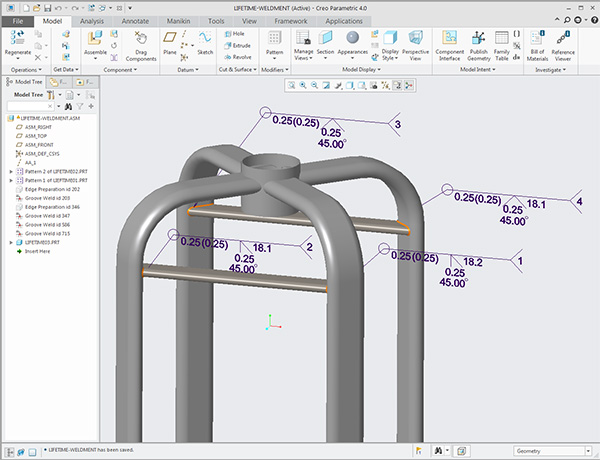 [/accordion-item]
[accordion-item title="Brief +" state=closed] This Creo course is a comprehensive Weld Top-Down Design & Detailing class for managing engineering instructions and drawings for weldments. This Creo training course is developed for newer and seasoned users alike who want to become proficient at creating documenting and managing Weldment assemblies and their drawings. We help you learn Creo Weld & Detailing & Advanced Assemblies, not by reading to participants from an exercise or a book but by solving problems through examples with this powerful tool set. We often, depending upon participation requirements, spend a portion of time allotted on Advanced assembly or top down design for managing the weldments, weld functions themselves and the subsequent detail drawings. In this course we help design engineers learn how to make changes quickly to set them up for becoming experts faster. As all Design-Engine classes, participants keep the training material login and password for life as they update often and will go back for continued learning and new exercises.
[/accordion-item]
[accordion-item title="Video Training Delivery System +" state=closed] Ask your Design Engine account manager about the Design-Engine Video Training Delivery System or TDS for short. We have prepared this entire class in an easy to follow guide for designers and engineers who may want this TDS as a supplement to this course. Call today to speak to an account manager about the details at 312.226.8339
[/accordion-item]
[/accordion]
*Please note that prices listed on this page are based upon pre-payment prior to the start of the class and does not include the Design-engine Video training Delivery System. The TDS is available as an additional cost to this course.
"Pro Engineer Training", "Pro E Training", "Creo Training", "proe training", "Advanced Assembly Creo training", "Learn Creo", "Creo Training Chicago"