Creo Level 3: Custom Creo Surfacing
Course Duration: 16 hours or 40 hrs depending upon your project.
[accordion autoclose=false openfirst=true clicktoclose=true]
[accordion-item title="Overview +" state=open]This course is the customized version of the surfacing classes Design Engine offers. Bring in a project that you have struggled with, and we tailor the course around your problem. This course is usually administered one-on-one. This class is perfect for product design engineers who already maintain a high level of surfacing but want to elevate their skills.[/accordion-item]
[accordion-item title="Onsite Training +" state=closed]This and all Design-Engine courses can be conducted onsite at your facility. Call to speak to an account manager & arrange your class at 312.226.8339 today.[/accordion-item]
[accordion-item title="Prerequisite +" state=closed]Design Engine's Level 2: Advanced Creo Surfacing workshop or serious prior use of Creo surfacing.[/accordion-item]
[accordion-item title="Topics +" state=closed]
Learn to eliminate isoparms/isolines.
Learn to take advantage of isoparms/isolines with respect to striation or flow of a surface.
Learn about tangency issues in-depth using examples from difficult surface anomalies with or without control points.
Learn advanced details of Sweeps, blends & other curve & surfacing techniques to maintain Draft.
Learn techniques for capturing form by looking at various foam models and offer several starting examples on how to initiate the modeling process.
Building surfaces from graph features.
Discuss alternate surface creation techniques from robust curves.
An introduction to 3D bounding boxes or lattice structures.
Create ridiculously robust models utilizing lattice structures. Discuss how to incorporate handles for further control as well as understanding surfaces that look at those curves
Participants, if interested, can explore curvature continuity (G2) and multiple plans of attack by looking at existing products.
We supplement this training with techniques utilized by Alias, which is what is primarily used in the automotive industry
Hands on efforts through as many as ten tutorials that are illustrated through computer examples.
This workshop could take several weeks, even with participants who consider themselves expert level Creo users and adept to advanced surfacing
[/accordion-item]
[accordion-item title="Discussions +" state=closed]
Discuss techniques for making surfacing models more robust.
Discuss standard modeling techniques with respect to industry standards.
Discuss light reflections from an industrial designer's perspective, with respect to G2 Continuity.
Compare Creo to Alias modeling techniques and the differences or benefits for each one.
Discuss three part to four part boundaries with more than four examples for getting out of a corner.
Discuss plan of attack and a simple approach for capturing form from foam models or ID sketches.
Discuss the ideation process as the ability to prove form and the techniques to get multiple 3D iterations within hours instead of days.
Discuss with specific examples advanced functions of Creo as well as the strengths and weaknesses by comparing it to other high-end industry surfacing software.
Discuss techniques for building a more robust plan of attack with respect to Creo.
Discuss clam shell plastic part design as related to swept surfaces. Also discuss styling grooves with examples.
Discuss the proper techniques of surface modeling and the ability for others to understand the approach.
Discuss in detail surface analysis tools and the practical uses with specific examples.
Discuss with examples the plan of attach or set up process for building models.
Discuss in detail the techniques for avoiding 3 part boundaries and discover why expert surface modelers do not use 3 part boundaries (even masters of surfacing for reverse engineering).
This course is usually customized to focus on the students learning wishes and company projects. Bring examples of work or problematic models for in context discussions.
[/accordion-item]
[accordion-item title="Click To View Images +" state=closed]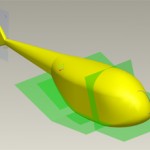 [/accordion-item]
[accordion-item title="Brief +" state=closed]This course is usually administered one on one. This Creo training course is a custom workshop where you bring your project, and we help you get it done. In this customized course we help design engineers learn how to approach surfacing projects and make multiple changes on the model without failed features. As with all Design-Engine classes, participants keep the training material login and password for life.[/accordion-item]
[accordion-item title="Video Training Delivery System +" state=closed]Ask your Design Engine account manager about the Design-Engine Video Training Delivery System or TDS for short. We have prepared all except custom workshops into easy to follow guide for designers and engineers who may want this TDS as a supplement to this course. Call today to speak to an account manager about the details at 312.226.8339[/accordion-item]
[/accordion]
*Please note that prices listed on this page are based upon pre payment prior to the start of the class and does not include the Design-engine Video training Delivery System. The TDS is available as an additional cost to this course. Call for details 312.226.8339